Around 8:30 AM this morning, the snow began to fall thickly from the sky. The school has called and asked us to do a two hour early pick-up for Katya.
I have happy plans for when she gets home so that I can continue the other kid's education and still meet her needs!
We are going to pop popcorn (something Katya enjoys eating) and nestle down together to watch the
"Drive Through History"
episodes that I just found out today are streaming on Netflix! Katya will hopefully be happy being held, and the other kids can keep on learning.
In other happy news, my in-box contained a special offer today from Barnes and Noble for me to share with my readers! If you have been thinking about purchasing a Nook Simple Touch, today is the day! With the purchase of a Nook using your MasterCard, you will also get a $30.00 gift card to Barnes and Noble! Just think of all the books you could purchase to start reading with that!
FREE $30 Gift Card w/ the Purchase of NOOK eReader when you use your MasterCard. (Valid 1/25 - 1/31)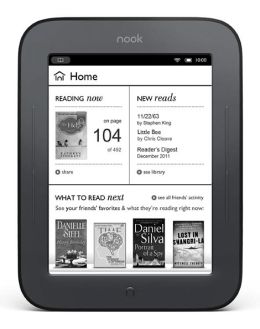 While I'm thinking that popcorn and videos with my kiddos makes for a happy snow day, a Nook and good books could make me happy too! What about you? Happy Snow Day, however you choose to enjoy it!